1992 Trans Am Convertible - Received it new in April of 1992.

2000 Corvette - Coupe, Millennium Yellow, MN6, Z51, and more! Whooo hooo!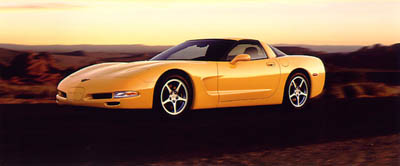 Cop Car - I recently attended an Illinois Tollway Authority auction and purchased a 1996 Caprice 9C1. Yep. It's a cop car with the Chevy LT1 engine much like that year's Corvette. It's HUGE! I can hide several bodies in the trunk and it still has the driver-side spot light. I'd like to restore the push bars for the front bumper. I was thinking about doing a few performance mods, but I upgraded the sound system instead. I'm also looking for a 1996 Buick Roadmaster 55/45 split front bench with cargo compartment in the arm rest. Looking for something different since my other cars have bucket seats.
So what do you do once you have a cool car like a Corvette? Drive it all over America!!!
2000 Road Trip - From my 8244 mile, 18-day road trip I took with my buddy Matt during the summer of 2000. It was awesome!